Parent Resources
Free Student Lunch
Wednesdays - Fridays 11:30 - 12:30
at the Simpson Center, for all children up to age 18.
Sponsored by Hemet Unified School District. No registration required.
Simpson Center is located at : 305 E. Devonshire Ave.
***Summer Family Events***
Thursday Family Events will be held at the Simpson Center located behind the library at 305 E. Devonshire Ave.
Hope Collaborative offers FREE EDUCATIONAL WORKSHOP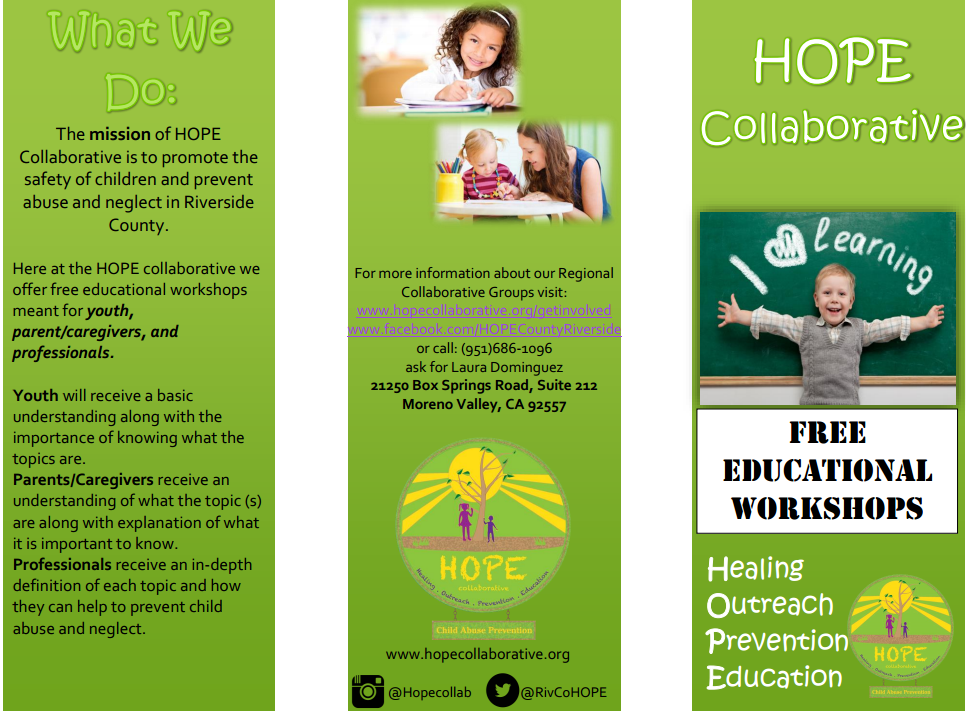 Promoting the safety of children and preventing abuse and neglect in Riverside County. Workshops are meant for youth, parent/caregivers, and professionals.Youth will receive a basic understanding along with the importance of knowing what the topics are. Parents/Caregivers receive an understanding of what the topic (s) are along with explanation of what it is important to know. Professionals receive an in-depth definition of each topic and how they can help to prevent child abuse and neglect. http://www.hopecollaborative.org/getinvolved
Come Back kids Charter School
Comeback kids offers prevention/intervention services to students of all ages who wish to re-enroll in an education program. Students who have fallen through the cracks are offered an opportunity to make up credits, find classes they need, and get special training.
Students receive the opportunity to complete their high school requirements/credits (200)

Prepare for General Education Development (GED)

Attend Graduation Ceremony and senior events
Desire to return to school

students between 16 - 24 yrs old
If you or someone you know wants to earn their diploma please call or fill out the online interest form.
Phone : 877-RCOE-CBK
Website: http://www.rcoe.us/student-program-services/cbk/
Location: Santa Fe/Hemet CBK
831 E Devonshire Avenue, Hemet 92543
Do you want/need a High School/GED Diploma a Job?
Empower Youth offers at no cost for ages 16 - 24
Tutoring (including ASVAB)
For more information please call 951-765-0917
MFI Recovery Center
Teen, Adult, and Family Counseling
Teen Substance Abuse Prevention services
Recovery and wholeness center for Women
Residential & Outpatient Substance Abuse Treatment Program
Family Guide: What you need to know about drug useFind hope, strength and freedom from addiction.
Contact us and start your journey today.
Phone: 800-923-5634
Website : http://www.MFIrecovery.com
If you have any questions regarding resources for the community, please call the school at 951-765-0277, send a note with your child's teacher, or email our parent liaison, Paulette Zetina. Be sure to mention your name, student name and phone number!